Maison Aneth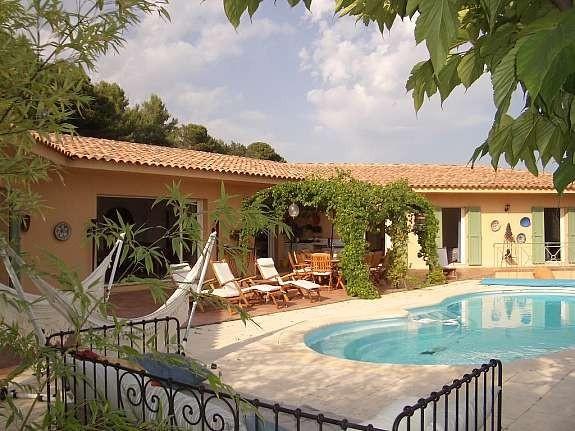 Maison Aneth is the Stiansen's holiday home in the Provencal town of Lorgues.
http://www.finn.no/r/feriehus-hytteutleie/object?finnkode=51161059&type=ADVERT&searchclickthrough=true
The house can be rented when it is not being used by us. Maison Aneth is a magnificent 350 square metre villa. It has seven bedrooms, four bathrooms, and sleeping accommodation for up to 14 people. Three families with children can easily be accommodated in the house. The basement is furnished with a separate flat, consisting of two bedrooms, a living room, and a kitchen. There is a separate terrace outside the entrance to the flat.
The garden extends to approximately one acre and is full of olive trees, fruit trees, and masses of wild and cultivated herbs. There is a large terrace of 300 square metres with a heated pool, outdoor kitchen, and pergola, which creates shade during pleasant lunches.
Lorgues lies 90 km west of Nice, about a one-hour drive from Nice Airport. Lorgues provides everything one dreams about in a Provencal landscape. Provence`s largest market is here every Tuesday morning. When the market is not on, there are small butchers shops, bakeries and greengrocers, cafes and restaurants. Lorgues is surrounded by great wine makers. Some of the best wines in the Côte de Provence are made here. We often take short cycling trips and refresh ourselves with the high quality wine that can be found around each corner.
Lorgues lies in the middle of the Var Department. The Department is known as Green Provence and it has a great number of natural attractions to enjoy. Our favourite is Gorges de Verdon, Europe`s largest canyon. Here you can paddle along the Verdon river, which gushes deep in the ground up to 700 metres below the high cliffs along the river edge.
For those who prefer saltwater, take the 45-minute drive to St. Maxime, a pleasant seaside town on the Cote D`Azur. Take the boat from the harbour over the strait to St Tropez, France`s hottest and brightest fishing/jet set town.
Call Bent Stiansen on +47 992 25 129  and find out whether the house is available when you want some lazy days in Provence.
You can also email to stathol@online.no
Prices per week from Euro 2250. to Euro 3500.